Find a Kitchen Remodel Expert
Portland OR – Oregon City OR – Tualatin OR
The home is 20 years old and the kitchen is beginning to show it's age. Countertops, cabinets, flooring, and even the floorplan need to be updated. A job of this scale requires a remodeler with equal parts experience and design imagination.
Oregon Builders & Restoration has 30 years of experience and has remodeled all types of homes, keeping current with today's trends as well as sticking with what has worked through the decades. From galley to gourmet, Oregon Builders & Restoration and restoration will design your kitchen to your tastes.
"With something like a kitchen remodel, where the homeowner will spend a lot of money, they really need to make sure they're linked up to someone who knows what they are doing and understands what the homeowner wants."


Designing your new custom kitchen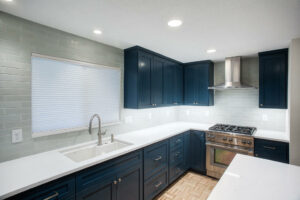 Depending on the design of the kitchen remodel, there are several things to take into consideration. Cabinet styles, countertops, and backsplashes come together to create a look and feel of the space. Appliances come in several styles, sink and faucet choices are plentiful, and flooring can be wood, tile, or something else completely.
Will there be a peninsula in the kitchen, separating the kitchen from another room? Or is a kitchen island in the middle of an open floor plan more desirable? Oregon Builders & Restoration will guide you through these steps, or design the space to your specifics. Contact Oregon Builders & Restoration for a free consultation on your new kitchen.
Kitchen Remodeling Trends
Oregon Builders & Restoration strives to give homeowners the design they want. State-of-the-art appliances, efficient floorplans, and convenient storage ideas will be blended together to give you the kitchen of your dreams. Here are a few items to think about when designing a new kitchen:
High-End Stainless Steel Appliances
Custom Cabinets
Premium Countertops
Touchscreen Refrigerators
Touch-Free Faucets
Wine Storage
Lighting
Every year, new concepts are revealed in kitchen technology. Oregon Builders & Restoration researches these trends and will suggest options during the design process to integrate these technologies.
Remodel your kitchen to sell your home faster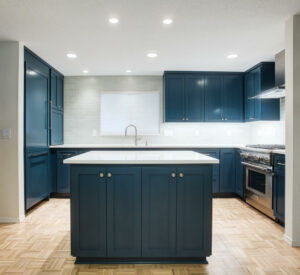 If a homeowner is looking to sell their home, a kitchen remodel may speed up the process. While the kitchen may be perfectly serviceable for the existing homeowners, a "brand new" kitchen will dazzle potential buyers. The kitchen is one of the main selling points of any home, and an updated kitchen makes the home that much more desirable. Oregon Builders & Restoration can design the kitchen to help sell your home fast.
Need a new kitchen to increase livability, add value to your home, or sell your home faster? Oregon Builders & Restoration will build you the kitchen you want, need, and deserve. Contact us today to set up a free consultation.
Interested in adding square footage to your home? Contact Oregon Builders & Restoration to find out your options.
Remodeling Services in the greater Portland OR area