Kitchen Makeovers That Make You Smile
A kitchen makeover is a great way to turn a dull and boring space into something that you can be proud of and that you will enjoy cooking and entertaining in. A kitchen makeover can turn a mundane kitchen into a luxurious and inviting space that will make you smile every time you enter it.
 If you like the way your kitchen is laid out, you can save money with a kitchen makeover vs a complete kitchen remodel.  With a kitchen makeover, we will work with your existing kitchen layout and upgrade the features in your kitchen.  Some upgrades typically include cabinetry refacing, adding storage and organization to drawers and cabinets, countertops, backsplash, sink, flooring, and fixtures.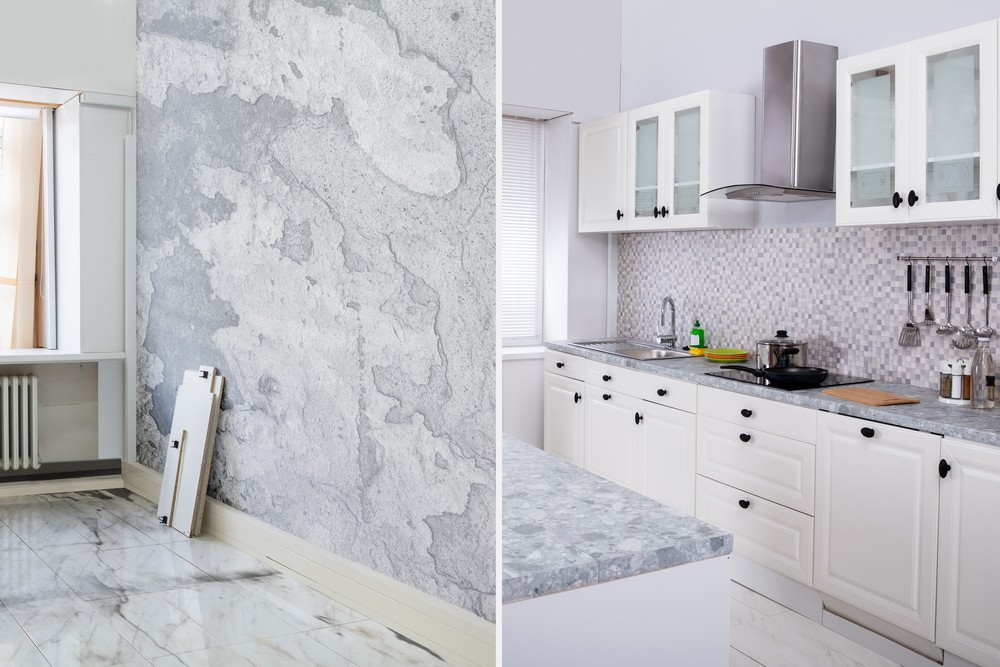 A kitchen makeover can also add value to your home. Investing in a kitchen makeover can be a great way to add value to your home and make it more attractive to potential buyers.
Finally, a kitchen makeover can improve the overall atmosphere of your home. Having a beautiful and inviting kitchen can make you feel more relaxed and content in your home, which will make you smile every time you enter it.
Painting or staining cabinets
A kitchen makeover through painting and/or staining of cabinets can transform the look and feel of your kitchen, making it more inviting and functional.
Whether you choose to go with a classic white or create a unique look with a custom color, painting and/or staining your cabinets gives you the opportunity to make your kitchen reflect your personal style.
Here are some of the benefits to consider when undertaking such a project:
A fresh coat of paint or stain can give your kitchen a new lease on life. Not only will it look more modern and inviting, but it can also increase your home's value.
Painting or staining your cabinets can make them more durable and easier to clean.
Compared to more extensive renovations, painting or staining your cabinets is an inexpensive way to give your kitchen a makeover.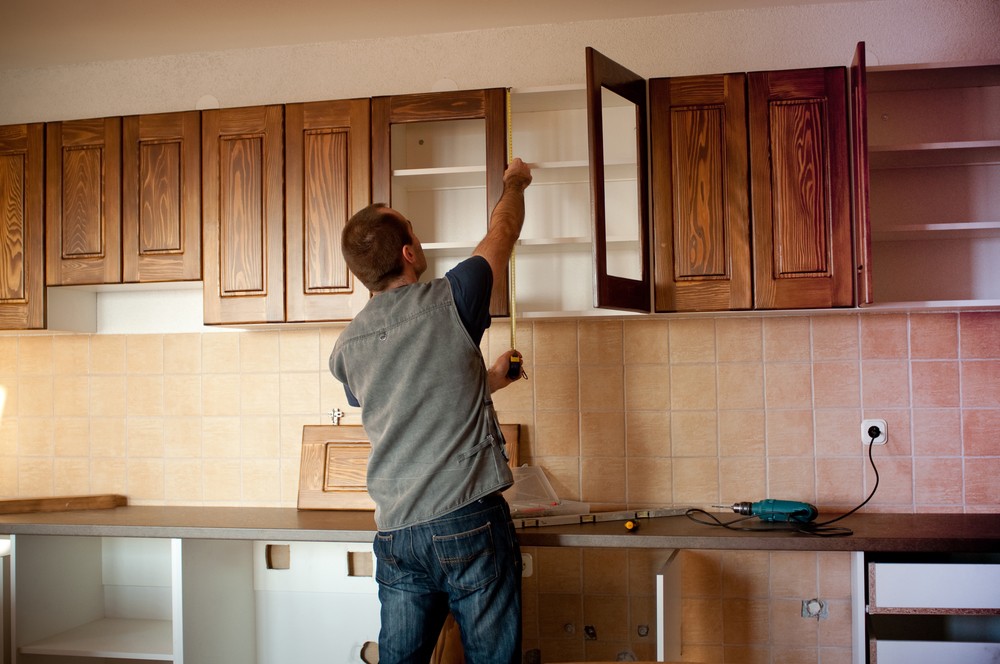 Reface your cabinets instead of Painting?
Refacing your kitchen cabinet is a great way to update the look of your kitchen without completely replacing your entire cabinetry. It's a cost-effective and time-efficient way to give your kitchen a whole new look in a kitchen makeover.
Refacing your cabinets can change the look of your kitchen to a custom style that can be both modern and timeless. It can also help to improve the overall value of your home. You can choose from a variety of materials and styles for your custom kitchen cabinet refacing makeover to create the look you love.
Refacing your cabinets can also help to make your kitchen look larger. By replacing the doors, you can open up the space and make it look bigger and more inviting. This can be especially beneficial if you have a smaller kitchen. Other aspects of change would include:
New door,
new drawers fronts
new hardware (soft close, pulls, and hinges)
storage solution
More Efficient Storage Solutions:
Kitchen cabinets provide an important area in the home for food storage and organization. Cabinets can be used to store dishes, cookware, and food items. With the right organization and storage solutions, cabinets can help you keep your kitchen organized and efficient.
Cabinet organization is important for optimizing the space inside cabinets. There are a variety of options available to help create an organized kitchen. 
Drawer inserts are a great way to keep drawers organized and organized. There are a variety of inserts available for different sizes of drawers. Larger drawers can be divided into sections for different types of items. Smaller drawers can have dividers and compartments for better organization.
Roll-out drawers are a great way to maximize the space in cabinets. Roll-out drawers can be pulled out of the cabinet so that you can access items that are deep inside the cabinet. This can be particularly useful in corner cabinets or in areas where space is limited.
Adding new organizational features inside your existing cabinets is a great way to give your kitchen a makeover by providing a more efficient storage solution. Interested in upgrading your cabinets?
Updating your Back Splash
Changing out a back splash in a kitchen make over can be a very rewarding experience. It can bring a whole new look and feel to the kitchen, making it seem like a totally different space. The process of choosing the perfect tile, cutting it to size, and then carefully installing it can be a gratifying and creative experience. When the project is complete, the homeowner can take pride in the transformation and feel satisfied and excited about the new look of their kitchen.
Makeover your Countertops
Changing out your kitchen countertop in a kitchen makeover can make you feel extremely satisfied and accomplished. After all, a kitchen counter is often the focal point of the entire room and gives it a completely new look and feel. The countertop is not only a design element but also needs to be a functional work surface. With a new countertop, you can add a modern touch to an outdated kitchen or give a fresh new look to an already stylish kitchen.
You can also add in more counter space such as a bar or Island for additional work and storage space giving you more versatility and convenience in the kitchen.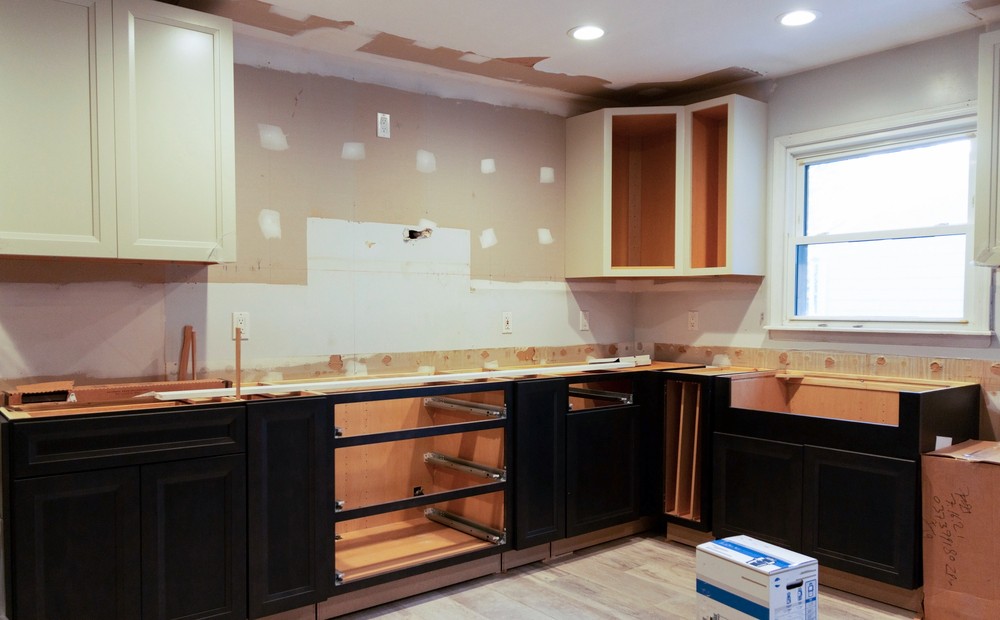 Plus, you'll be able to choose from a variety of materials and colors to find the perfect look for your kitchen. Installing a new countertop will also increase your home's value and make it more attractive to buyers should you ever decide to sell. All in all, replacing your kitchen countertop in a kitchen makeover is a great decision that can bring a new level of satisfaction and excitement for years to come. In a kitchen makeover, a new countertop is a must!
Look what's under your feet
Making the decision to change out your kitchen flooring during a kitchen makeover can be exciting. The end result of a new floor will be undoubtedly rewarding and help pull the entire makeover together.
The process of picking out a new flooring option can be exciting. We help you explore different colors, textures, and materials to find the perfect fit for your kitchen and your family. You can choose a flooring option that compliments your cabinets, countertops, and other kitchen features, or one that just adds functionality, warmth and character to your kitchen.
Visit our flooring page for more information on flooring options.
Everything and the kitchen sink!
Other options you might consider upgrading during a kitchen makeover is lighting, new appliances, fixtures, hardware even the kitchen sink!
Updating your kitchen sink can be a simple, yet effective way to give your kitchen a fresh, new look.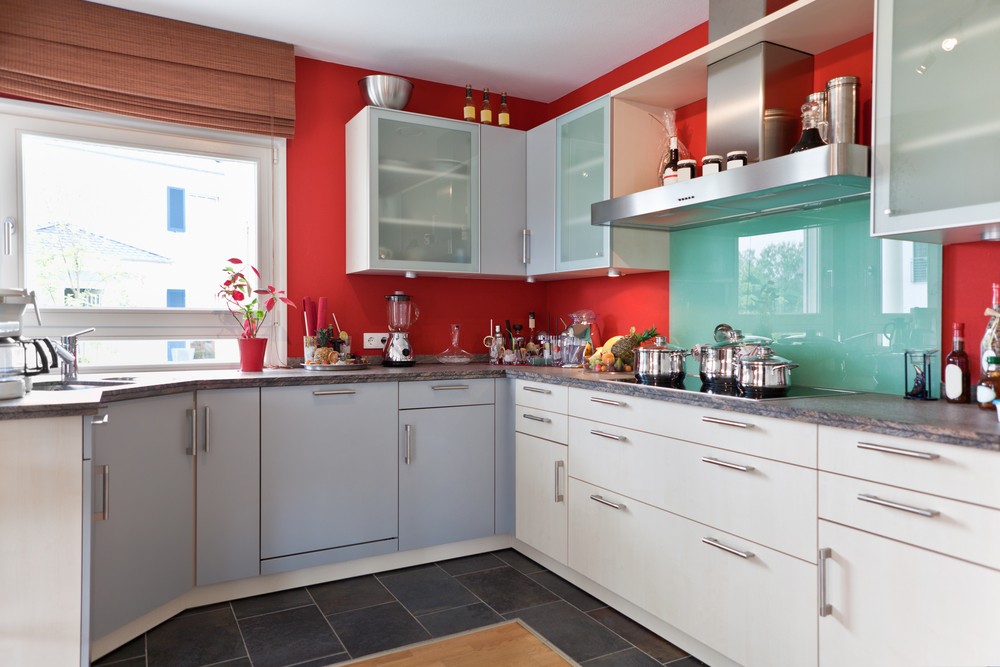 Interested in adding square footage to your home? Contact Oregon Builders & Restoration to find out your options.
Kitchen Remodeling Services in the greater Portland OR area
Oregon Builders & Restoration
19695 S Leland Rd Oregon City, OR 97045